If last month's incident of American transgender judge Victoria Kolakowski being denied an Indian visa created its fair share of ripples on social media, India Inc seems to have been more than making up for it in recent times.
While Kolakowski, who was supposed to speak on lesbian, gay, bisexual and transgender (LGBT) issues through a two-week tour of India couldn't make it, corporate houses across sectors have been stepping up proactive hiring, zero-tolerance and sexual harassment policies for the LGBT community.
On February 14 this year, IBM India started a 'first-of-its-kind' consortium of over 30 companies with Interweave Consulting to discuss LGBT inclusion and launched an initiative for transgender empowerment.
"We cannot name the companies but these are a mix of MNCs and Indian companies from technology, retail and FMCG domain," Ajay Dua, executive sponsor, LGBT at tech firm IBM India, said. "We are visibly LGBT-inclusive in the external marketplace to remain an employer of choice for this talent pool. Our hiring practices are inclusive," Dua explained. IBM now has a 'diversity indicator' available to employees to voluntarily disclose their LGBT status confidentially.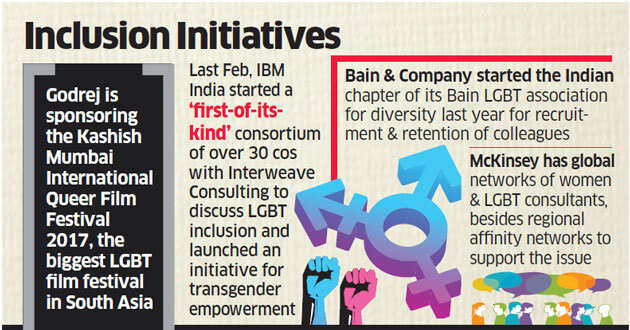 Global consultancy firm Bain & Company started the Indian chapter of its Bain LGBT association for diversity last year for recruitment and retention of colleagues.
"The association provides a unified diversity message throughout the recruiting process, an open communication channel with leadership to advise them on relevant policies, ensure a supportive work environment, and overall awareness of LGBT issues," said Parijat Ghosh, partner at Bain.
At least four multinationals ET spoke to said they follow clear diversity hiring guidelines in home markets in the US and Europe but they were hesitant to come on record because of the absence of law and to also protect their employees.
"Firms across tourism, fashion design, advertising, ecommerce, consumer goods, IT services and consulting are probably the most non-intrusive for LGBT professionals. It's also because of their ability to understand customer perception better. However, only after the largest employer of India — the government — promotes inclusivity, will we have full LGBT-compliant workplaces," said Rahul Nene, director at executive search firm Witthaus Management Consulting.
Read More: Brand Equity